In the era of busy schedules and the nine-to-five grind, many pet owners find solace in nighttime walks with their furry friends. As peaceful as the calm of the evening might sound, it poses a critical concern: visibility. The introduction of reflective gear has transformed these twilight adventures, ensuring safety while also adding a hint of style.
The Startling Statistics
The evening's tranquility can often be deceptive, especially when it comes to the safety of our pets. Recent studies have illuminated a concerning trend of accidents involving our four-legged companions during nighttime hours.
In the US alone, approximately 100,000 pets find themselves involved in road accidents every year. A deeper dive into these numbers reveals a staggering fact: a significant portion of these accidents occur specifically during the evening and early morning hours, times when many pet owners are either returning home from work or setting out for a day ahead.
One might ask, why is the risk so pronounced during these hours? The primary culprit is poor visibility. As the sun sets and the natural light fades, both drivers and pedestrians find it increasingly challenging to spot animals on the road. This becomes even more problematic in areas without adequate street lighting or during adverse weather conditions such as fog or heavy rain. Compounding this issue is the fact that many pets, especially cats, are naturally more active during dawn and dusk, increasing their chances of wandering into harm's way.
Moreover, 70% of these incidents can be directly attributed to poor visibility. Such a high percentage indicates a pressing need for awareness among pet owners about the risks associated with nighttime outings. It's not just moving vehicles that pose a threat; even bicycles and electric scooters can be dangerous if they don't spot the pet in time.
Table 1: Annual Pet Accidents Based on Time of Day
| | |
| --- | --- |
| Time of Day | Percentage of Accidents |
| Morning | 10% |
| Daytime | 20% |
| Evening | 40% |
| Night | 30% |
Enter Reflective Gear
Reflective gear has become a game-changer for pet safety during nighttime outings. These accessories, designed with light-reflecting materials, work by bouncing back light, making pets instantly noticeable when exposed to sources like car headlights. This phenomenon, known as retroreflection, enhances visibility and reduces risks during low-light conditions. Modern reflective gear isn't just functional; it's stylish. From vibrant collars to sleek harnesses, pet owners can now ensure safety without compromising on aesthetics. Simply put, reflective gear combines innovation with fashion, paving the way for safer, more confident evening strolls with our beloved companions.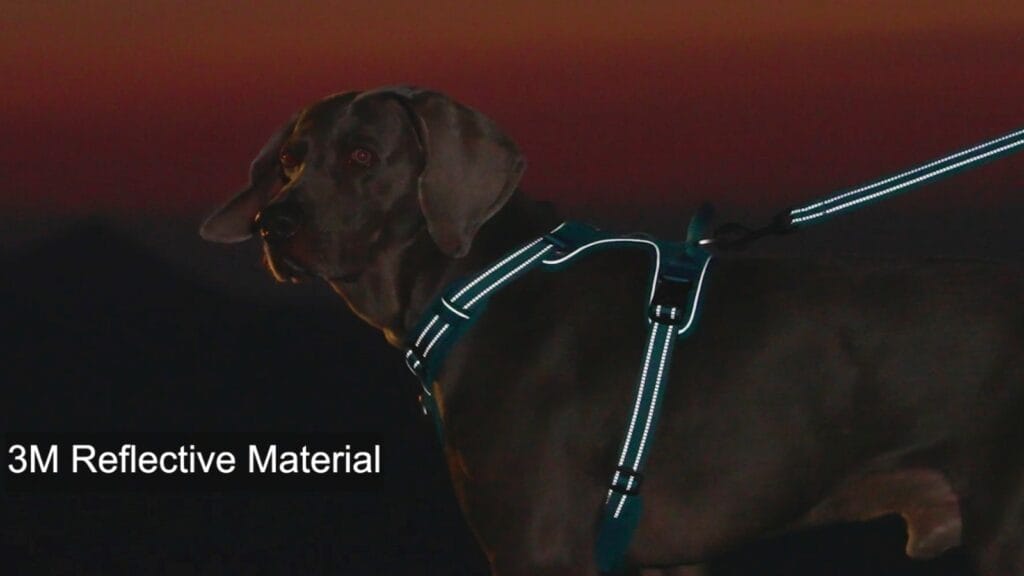 The Multifaceted Benefits
Reflective gear for pets, while designed primarily with safety in mind, offers a range of advantages that cater to both the pet and the owner.
Safety First: The main draw of reflective gear is, without a doubt, the enhanced visibility it provides. In dim conditions, every second counts. The bright reflection ensures that pets are noticed immediately, whether by motorists, cyclists, or other pedestrians. This immediate recognition significantly reduces the likelihood of unfortunate incidents, acting as a protective shield around our furry friends during their outdoor adventures.
A Blend of Function and Fashion: Gone are the days when safety gear for pets meant dull, unattractive designs. The modern market for reflective gear is rich with diversity, offering products that meld safety with style seamlessly. Pet owners can now choose from a plethora of designs, patterns, and colors, ensuring their pets not only remain safe but also strut in style.
An Ounce of Prevention: Reflective gear provides pet owners with the priceless gift of peace of mind. The anxiety of letting pets out during the darker hours can be nerve-wracking. With reflective accessories, owners are offered an extra layer of reassurance. Knowing that their pet stands out, quite literally, allows for a more relaxed and enjoyable outdoor experience.
Evolving Innovations in Pet Safety: The Rise of LED Gear
The pet safety industry has been characterized by its continuous evolution, always searching for newer, better ways to ensure our furry friends remain visible and safe. While reflective gear marked a significant leap in this direction, the industry's visionaries haven't stopped there. The next frontier in pet safety is illuminated gear powered by LED technology.
LEDs, or Light Emitting Diodes, are small, efficient light sources that can emit bright light without generating too much heat, making them perfect for wearable gear. The introduction of LED-equipped pet gear is a revolutionary stride in pet safety for several reasons:
Independent Light Source: Unlike reflective materials which rely on external light sources like vehicle headlights or street lamps, LED-equipped gear shines brightly on its own, ensuring pets are visible even in pitch-dark conditions.
Customizable Brightness and Colors: Many LED pet accessories come with adjustable brightness settings and a variety of colors. This means owners can choose a specific color that contrasts with their pet's fur, ensuring maximum visibility. The variable brightness can also be adjusted depending on the environment, whether it's a dimly lit street or a foggy park.
Flashing Modes for Added Attention: Some LED gear includes flashing or pulsing modes, which can be especially effective in catching the attention of drivers and pedestrians alike. A flashing light is hard to miss, even from a distance.
Long-lasting and Economical: LEDs consume very little power, which means that these accessories can shine brightly for extended periods without frequent battery changes. This not only ensures consistent safety but also makes LED gear an economical choice in the long run.
Eco-friendly: LEDs are known for their longevity and efficiency, reducing the need for frequent replacements and thereby reducing electronic waste. This makes LED gear an environmentally conscious choice for pet owners.